During the Skylab-2 mission Ardis Shanks had a party at her house, the astronauts wives were also there, here you can see them on these two photographs with the wives patch.
Image Right: From left to right: Helen-Mary Garriott, Sue Bean, Ardis Shanks and Gracia Lousma.
Image Left: From left to right: Gracia Lousma, Helen-Mary Garriott, Cheir (the lady who stood model for the wives patch) and Sue Bean. Photos: Ardis Shanks.
---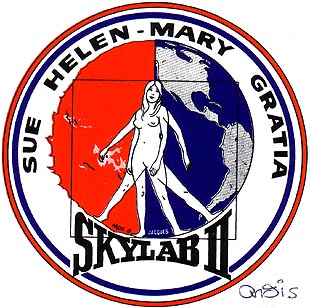 The main feature on the second Skylab crew patch was Leonardo da Vinci's universal man, slightly retouched to make it "G-rated"! Without their husbands knowledge, the astronaut wives also had a patch made wich was a joke version of the official crew patch. The universal man figure had been replaced by a "universal woman". Instead of the astronauts names; Bean, Garriott and Lousma, their wives first names were shown: Sue, Helen-Mary and Gratia. The crew first became aware of the wives patch when they found stickers of them in their lockers on board Skylab.
Text by: Jacques van Oene and Bert Vis, Spaceflight Magazine, March 1999.